Over the years, Fourth Dimension has committed to an unrelenting focus on the families we serve. That can look like a lot of different things: adherence to a Fiduciary Standard, commitment to regular ongoing communication (like this Weekly Newsletter and the quarterly Steward print newsletter), progress review meetings, and fun social events. And while these very outward expressions of client engagement are easy to see, there's another subtle commitment that's less obvious and a bit more nuanced.
One of the most powerful forces acting on a financial advisor is the pressure to grow, grow, grow. More, bigger, and faster is the message we hear loudly from our industry. Investment managers generally want more assets to manage, insurance companies want more business placed, and marketers want us to want more so that they can sell us their marketing services. And while Dave and I are not categorically opposed to growth, we believe strongly that growth for growth's sake is a very distant second to giving our clients what they need in order to meet and exceed their objectives. Your objectives. As a result of this thinking, we've resisted the big shiny building, the large impersonal staff, and the pursuit of industry awards that often accompany more-bigger-faster.
With this in mind, it's a really big deal for us to welcome somebody new to our team. Because we're so protective of you, and we're so aware that a new addition to the family can be so involved, we don't let just anybody in. Fortunately, the person I want to introduce you to isn't just anybody.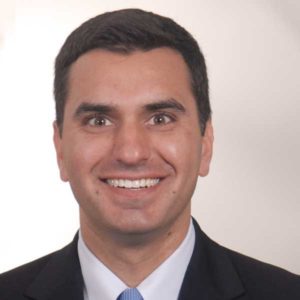 Meet Josh. Joshua Rochon is a CERTIFIED FINANCIAL PLANNERTM who brings with him ten years of financial planning experience. He's worked with families that often require complex planning solutions, many of them executives and entrepreneurs, while serving at large financial institutions. This depth of experience is sure to be a very valuable resource to you and to us, but he also happens to be a very kind person who's passionate about his faith and his family. In other words, he's a great fit for Fourth Dimension and we're lucky to have connected with one another and made the decision to work together. If you'd like to see Josh's complete bio, please click this link: Josh's Bio.
In the coming weeks, months, and years, we're excited to introduce Josh to you and to leverage his immense skills to create new opportunities for more people to plan for a successful retirement as you have. We're confident that his arrival marks a new phase at Fourth Dimension, a new opportunity to serve families and businesses at an even higher level.
Please help us welcome Josh to Fourth Dimension. Feel free to introduce yourself to him; his email is Josh@FourthDimensionFinancial.com.
All the best,

Adam Cufr, RICP®