It's "the happiest place on earth" they say.  Having just returned from a week's vacation with my family at Disney World in Orlando, I thought I'd share a few thoughts about our experience. Given the planning that goes into a Disney vacation for a family of seven, I certainly don't want this to have passed us by without at least a bit of reflection.
For reference, I was last at Disney in 1982, and at the time, Epcot was just being built. Now that I'm a parent, it seems that many of us have been convinced that we're not doing our parenting duty until we've 'done Disney.' We knew our window of opportunity was fast closing because of the new baby on the way and a 15 year-old looking toward college. This meant Carie was seeing the attractions as a VERY pregnant mom-to-be-again, which made for some unique challenges.  In the end, she did great, but we wouldn't advocate for making the journey during the late stages of a pregnancy if it can be avoided.
With such a mythical reputation, Disney has a lot to live up to. Unfortunately for them – and us – it rained torrentially for our first day and continued off-and-on into the week. This meant we were pushing a pregnant lady in a wheelchair, in the pouring rain, for what seemed like the length of a marathon. This is "where dreams come true"? Boy, I'm not so sure. But we kept at it, covering ourselves in Disney themed rain ponchos and doing what we could to keep the laughs flowing.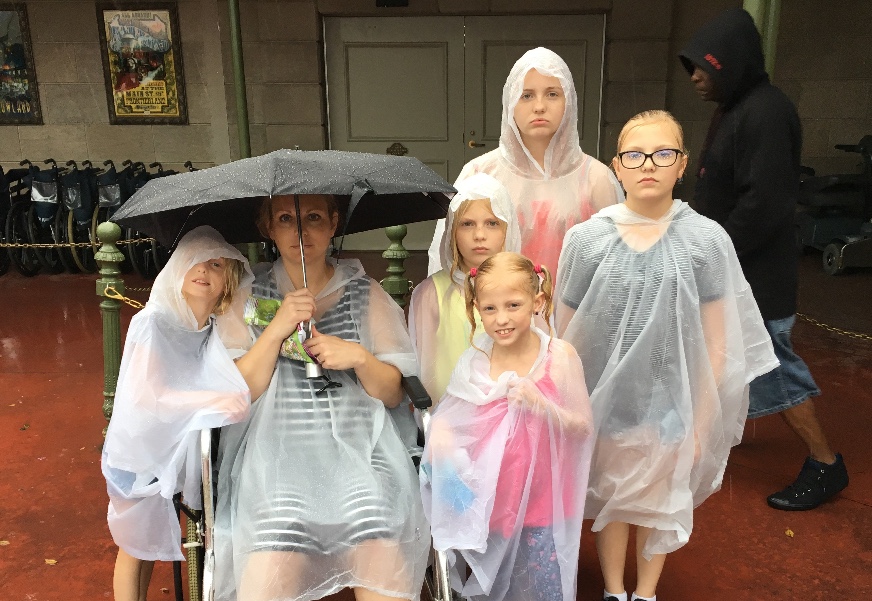 We experienced the Magic Kingdom, Epcot, Hollywood Studios, and the Blizzard Beach water park during our stay. While each park has its own signature attractions that are very well done, we seemed to enjoy Epcot and the water park most.
While this may sound like sacrilege, what I found to be most amazing about Disney wasn't always the parks themselves. After all, we were either drenched in rain or sweating from the heat, our feet aching, standing in lines, and being turned away from rides that broke down while we were in the 'Fast Pass' lane for over an hour (this happened twice in a row). Much of what I thought was supposed to be magical wasn't fun at all; it was work. But this is where I began to discover the real magic.
It turns out the real magic is in the space between all of the rides, events, and happenings of Disney World. It's the space created when you get the entire family in one place, focus on and experience the same things, and have reasons to remember why you're so lucky to have one another. In fact, the best thing I heard during our trip, while we were laughing hysterically during dinner, was one of our daughters declaring "I love our family!" As much as I was tempted to, I wasn't able to put a price on that moment. As the cliché goes, it was priceless.
So while we may not be back to Disney World for some time, we can now rest in the fact that we 'did Disney' and are better for it.
As we experienced, I hope the families we serve in their retirement planning discover those spaces in between all of life's happenings, where we can fully appreciate those around us. Just as money doesn't guarantee happiness, having a well-planned retirement can help create the necessary space in life to savor the little moments, the ones that truly count. That's the 'magic' of Disney and hopefully the reality of a successful retirement.
All the best,


Adam Cufr, RICP®