Welcome to the April Edition of The Ultimate Guide For the Successful Steward, Fourth Dimension Financial Group's newsletter.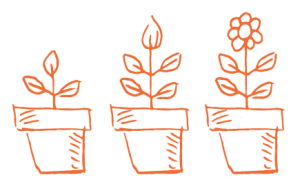 I don't know about you, but when it comes to the seasons, I'm a spring guy. No other season captures my imagination like the season that puts an end to cold misery and ushers in warm sunlight. I guess it's for many of the same reasons that I'm also an idea guy. I get really excited when new ideas, like new flowers, appear seemingly out of nowhere. The rise of new ideas in my life has become so regular, that it's no longer a surprise when one pops-up, but it's still exciting nonetheless.
My excitement level has been especially high here at Fourth Dimension lately, because we've been really busy exploring ideas, both new and old. We're doing our best to leave no stone unturned in the pursuit of getting better, not just for ourselves, but also for you. I'm thrilled to say that this pursuit has led to some really exciting new breakthroughs in the last couple of months, and several new opportunities in the retirement income planning realm as well as investment management. While these two topics are essentially one-in-the-same, how we approach them is quite different from one another. The result of these breakthroughs will be a more integrated, engaging, lower cost approach to investing. It's hard to not get excited about that.
There isn't enough room on this page to share everything with you that's going on here, but I do want to keep you in the loop. My discussions with many of you at the Blarney and the many chats from progress review meetings this quarter, each reminded me of the most critical element of what we do: true retirement planning. Time-and-time again, we hear from you that the planning that we do brings such a needed clarity to your approach to retirement that we have doubled-down on that effort. This effort has given rise to one of the new things we are introducing…something that we call Discovery Sessions.
Discovery Sessions are designed to introduce new families to the process of planning that seems to be missing from so many financial firms who appear content to simply sell products. A Discovery Session is designed to bring the critical elements of planning to the forefront while allowing space to consider the softer elements of retiring, like what one dreams about doing in retirement and what might prevent those dreams from becoming reality. As you learn more about this from the attached flyer, please consider who might find value in attending a session and invite them today!
Another one of the changes on the docket is our Fourth Dimension Weekly email newsletter. You're likely already aware of the newsletter, but if you're not, we included a summary and reminder in this issue. I encourage you to sign-up if you haven't yet: Each newsletter is packed with simple, easy to read, yet important information. If you like what you're reading, why not tell a friend to sign up too?
Finally, as far as the most exciting change coming up soon, it's just too good to lay out here, so we will be reaching to you very soon, if we haven't already. We've got a whole new strategy in store for you, and we know you're going to like it.  This strategy has been many months in the making and I really think it signals the birth of Fourth Dimension 2.0. I can't wait to share it with you!
Thanks again for your attention, and keep your eyes and ears peeled for the new things to come. In the meantime, enjoy spring and plan something exciting for the summer. I'll consider doing the same.
To your success,

Adam Cufr, RICP®