When you consider your retirement plans, hopes, and dreams, what's that one thing that you think about accomplishing, but immediately dismiss? Maybe it's a dream vacation to Alaska, perhaps it's a significant financial gift to your favorite charity, or it could be an addition to your home to accommodate a growing brood of grandkids. Whatever it is, what's stopping you from making it happen?
My dad has had a bucket list item for a long time, a 1927 Chevrolet . Last weekend, I saw him make that dream a reality. While this isn't a story of great financial sacrifice, it's more of a coming-home party of sorts. See, since I was a kid, I was repeatedly shown a black-and-white photo of my grandpa, who passed away before I was born, sitting in a 1927 Chevrolet with my grandma. It was their first car. And he was smiling from ear-to-ear. As you can imagine, my dad does the same when he pulls out that photo.
Last weekend, my dad dragged home a 1927 Chevy, in boxes – a restoration project to make his very own version of the car in the photo. While this car may not have the same VIN as the car in the photo, we know it doesn't have to. That car, THE 1927 Chevrolet is coming home after all these years. Because it's coming home to my dad, Grandpa's memory will live on at car shows for many years to come. My dad never gave up on the dream: His persistence paid off.
What is it that captures your imagination and makes you feel like a child inside? What inspires you to dream, and to persevere? What is it that is so important that you would set aside all practical reason and take action now?
Sure, retirement planning is important…but that's not all there is. See, retirement planning is ultimately all about bringing goals and dream to life! Often, people assume that I'm all about the numbers, scrimp, save, defer. If that's what you think about me, then you need to get to know me a bit better! I want to help you dream…and I want to help you make your dreams a reality.
So, what's your dream? Whatever it is, I would love to hear about it.  I want to help you realize your dream , and do it in a very comprehensive and practical way. If we haven't yet talked about it, get in touch with us and we'll set up a time to help you discover what you can do now that you've always wanted to do before.
* Look below my signature to learn about discovery sessions!

Adam Cufr, RICP®
P.S. I have my own dream that I've had bottled-up for a while. Curious what it is? Just ask me sometime.
Discovery Sessions
You may have heard that we're beginning to offer something called Discovery Sessions. What is a Discovery Session? Well, I'm glad you asked. It is a free 60-minute experience designed to help people learn the tools, strategies, and methods necessary for building a detailed blueprint to allow them to balance both financial and lifestyle goals alike.
Designed for people new to Fourth Dimension, attending one of these no-obligation sessions gives them the opportunity to learn, for themselves, what they want their retirement to look like and the options to consider when designing their plan. It's a really thought-provoking process and we would love it if you were to introduce the session to friends who may be considering their retirement options.
Please click here to view a detailed flyer that you can share with a friend.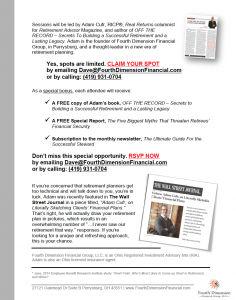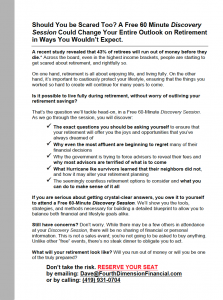 Upcoming Sessions:
Thursday, April 21st at 5:30 P.M.
Thursday, May 7th at 5:30 P.M.
Thursday, May 21st at 5:30 P.M.
There are a number of ways to RSVP. Call us at (419) 931-0704 or email: Dave@FourthDimensionFinancial.com.
If you'd like a ready-prepared email to send to friends, email us and we'll send it your way.
Thanks so much for your help in alerting others to the options available to them. It means so much to us and them when you make a connection.