Last weekend I had the pleasure of accompanying two of my daughters to the annual Daddy-Daughter Dance at their school. It's a fascinating event, with pretty dresses, loud music, high-pitched screams and laughter, not to mention lots of dads who seem to not have the slightest idea of how they got there. So much to witness, so much to discuss.
Before we get too far, I must confess that I don't think a guy invented the Daddy-Daughter Dance; not because dads don't enjoy spending time with their daughters, but most dads wouldn't have chosen this as the activity with which to invest a Saturday night. And because of this, the dance is an amazing spectacle to behold.
Having attended nine of these dances thus far, with as many as four daughters at a time, I've noticed some trends worth noting, mainly from the perspective of the many types of dads at the event.
Here's a list of some of the dad-types in attendance:
Where are my dad buddies?, dad – This dad would much rather be talking sports with his dad buddies than dancing with his daughter. You'll often find these dads along the outer fringes of the actual dancing, so as to not look like he's checked-out completely but still be in-the-mix enough to be there for his daughter when she searches the room for him.
I have no idea what to do, dad. – Clearly this dad is shell-shocked by what he's witnessing. Do I stand, sit in a chair, find the snack table, make friends with a 'where are my dad buddies?, dad'? Lacking any conviction either way, he stands by himself, just wishing for the end of this experience. He loves his daughter for sure, but he does not love what he's been asked to participate in.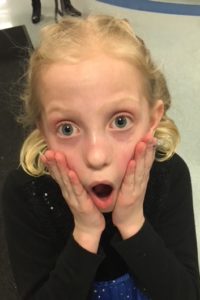 The dance like nobody is watching, dad. – This guy made a decision before he walked in the door; he's dancing like a crazy person, not because he's good at dancing, but because he knows his daughter will (possibly) love dancing with him, and he thinks other dads will be envious of his courage. "These guys wish they had the guts to do what I'm doing." He's thinking to himself, smugly. He may or may not be right; he just keeps dancing.
Do whatever your daughter tells you to do, dad. – Because he's secretly terrified by his daughter and her personal power, this guy is being led from one end of the gym to the other, holding her shoes and corsage because she's on a mission to dance and he's a convenient carrying case for her extra stuff. Later, his wife will ask how it went and he'll only be able to offer up a, "It was really fun!" before collapsing into bed, two hours before his actual bedtime, too tired to shower off the sweat he earned by somehow walking twelve miles around the dance floor.
The reality is, I've been all of these dads to some degree. Because each of my girls is very different from one another, they each need and expect different roles filled by good old dad. For most years, my own dad has attended the dance with us, helping me form a solid zone defense when the Cufr girls very much outnumbered the Cufr guys. Not only did my dad store up some great memories, but the girls will always know that their dad did his best at the dance, having learned from his own dad that just being there is all that really matters, regardless of the dad he needed to or chose to be during those two hours of pretty dresses, loud music, high-pitched screams…and laughter.
Dads-to-daughters, unite. We're all in this together, so let's be kind to our girls, to one another, and dance like no one is watching.
All the best,

Adam Cufr, RICP®