Long before John Travolta badly botched Idina Menzel's name at the Oscars ("Adele Dazeem!" – see it here), he had imbedded himself in American culture with Olivia Newton-John in the iconic film classic, Grease. 36 years later, "You're the One That I Want" has faded a bit and now the economic world wrestles with Greece, our new center stage sensation.
This week saw the Dow drop 350 points on Monday, the biggest single-day drop since 2013, pushing the Dow negative for the year. Investors have been worried about Greece for five years now, but when talks broke down that may have helped alleviate Greece's debt crisis, well…that was enough to send the market plummeting.
This news begs the question: What should you do about Greece, a falling market, and possible upset to the European Union? Should you pare back your investment portfolio and become more conservative? Should you invest more to take advantage of stocks that are now on-sale compared to last week? Should you email me to see what my take is? All of the above?
At the risk of sounding like a broken (Grease) record, can I suggest that you revisit your retirement planning strategy? In fact, I'll offer you some questions to consider as you do this, right here, right now:
Do you have secure, even guaranteed, income sources that are adequate to allow you to maintain your basic lifestyle, should the stock market experience continued losses?
Or is your income in retirement reliant on a volatile market to provide you the income you want, when you want it?
Are you comfortable that your investment risk is consistent with your investing time horizon? For example, do you have a need for money in the next few years that is currently invested in risky investments?
Does a market drop like Monday's get you more concerned than a market rise gets you excited? (Hint: most people hate losses more than they love gains.)
Would you benefit from a strategy review to ensure that a country you've never even visited doesn't derail your retirement plans?
You see, we're "Hopelessly Devoted To You" in our quest to assure your financial security in retirement. We're here to help you avoid rain on prom night, so please allow us to help you do what you can to build a successful retirement and a lasting legacy.
(If you're rolling your eyes at the endless Grease references, feel free to suggest topics you'd like to hear more about. Just email me. After all, "We Go Together," you and I. Okay, I'm done now.)
All the best,



Adam Cufr, RICP®
P.S. Have a wonderful 4th of July holiday. As social issues threaten to separate us from one another, let's hope we can stand shoulder-to-shoulder and remember the great sacrifices that were made to allow us the freedom to express our uniqueness, together.
Discovery Sessions
You may have heard that we're beginning to offer something called Discovery Sessions. What is a Discovery Session? Well, I'm glad you asked. It is a free 60-minute experience designed to help people learn the tools, strategies, and methods necessary for building a detailed blueprint to allow them to balance both financial and lifestyle goals alike.
Designed for people new to Fourth Dimension, attending one of these no-obligation sessions gives them the opportunity to learn, for themselves, what they want their retirement to look like and the options to consider when designing their plan. It's a really thought-provoking process and we would love it if you were to introduce the session to friends who may be considering their retirement options.
Please click here to view a detailed flyer that you can share with a friend.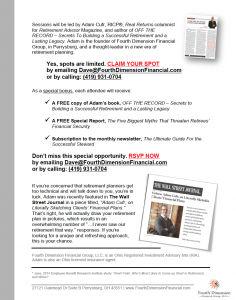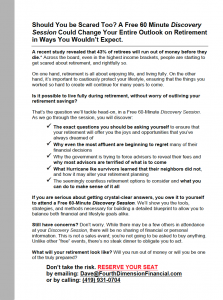 Upcoming Session:
Thursday, July 16th at 5:30 P.M.
There are a number of ways to RSVP. Call us at (419) 931-0704 or email: Dave@FourthDimensionFinancial.com.
If you'd like a ready-prepared email to send to friends, email us and we'll send it your way.
Thanks so much for your help in alerting others to the options available to them. It means so much to us and them when you make a connection.