Welcome to the October Edition of The Ultimate Guide For the Successful Steward, Fourth Dimension Financial Group's newsletter.
On Myths and Misconceptions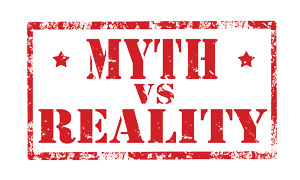 What color is a stop sign? Red, you say? Very good. What color is a yield sign?
The vast majority of people will respond by saying yellow. I did, which is remarkable when I learned the truth about yield signs. Yield signs are also red and they have been since 1971. That's amazing to me because I wasn't born until 1975, yet in my mind, yield signs have always been yellow.
I share this to demonstrate that many of us are walking around with myths and misconceptions occupying our daily thoughts. When that reality creeps into our retirement planning decision-making, we sometimes build castles in the sand. Financially speaking, that's potential for a huge problem. In this issue of the Steward, we're going to tackle just a few examples of financial myths and misconceptions that can harm your ultimate retirement success.
In this month's Briefcase Study, we take a brief look at tax rates and the myth that your taxes will absolutely rise in the future. In our Back to the Basics article, we get very basic, by looking at the misconception held by many that retirement means you're done.
Finally, we want you to know that we're gearing up again for our next Evening Sessions series. This series is a great way to explore the myths and truths of a number of vital retirement planning topics. This is also a great opportunity to introduce a friend or two to Fourth Dimension and the planning services we offer. The Evening Sessions are one of our favorite forms of education and outreach. Please consider how you can participate in some way.
To all our readers, we are very excited to help you plan for a successful retirement. As you consider your unique situation, please feel free to use us as a resource. We are always open to feedback and are extremely grateful for the trust you have placed in our team.
To your success,

Adam Cufr, RICP®