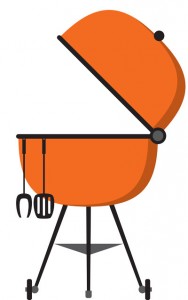 Welcome to the July Edition of The Ultimate Guide For the Successful Steward, Fourth Dimension Financial Group's newsletter.
We're right in the midst of cookout season, that amazing time of year when we invent reasons to grill burgers, with a side of baked beans and delightful desserts, only to later ask ourselves: "Why did I eat so much?" Ah, summer. 
I trust that summer is treating you well. For me, it has been an exciting time. At Fourth Dimension, we've met many new people who are now building their retirement plans with our help. Meanwhile, my daughters have been busy enjoying the sunshine, while my oldest went and became a teenager. Yes, we're off to the races now. It wasn't more than three days after she turned 13 that the cul-de-sac we live on began teeming with boys, eager to catch a glance from any number of eighth grade girls seeking refuge in our back yard. I'm telling you right now that I'm not ready for this. I'm just not.
The global newsmakers have certainly been busy. From Greece's debt crisis to China's stock market collapse to teen pop star, Ariana Grande, declaring (on a surveillance camera) that she hates America and Americans, while licking donuts to be sold to other patrons. It's amazing to me that these stories receive equal weight in the news, but I suppose we're served that which we'll consume. It's simple supply and demand.
In this month's Steward, we're serving up a few items that I hope you'll enjoy. You'll see a reprise of an article I wrote for our Fourth Dimension Weekly email newsletter, shedding light on how Warren Buffet suggests you invest your money. Also, our preferred Estate Planning Attorney, Richard Chamberlain, shares his insight on a planning tool that is becoming more important and popular in his practice, the Standalone Retirement Trust (SRT). We know many of you will find this intriguing.
An item I'd like to bring to your attention is the announcement of our upcoming Retirement Elevated classes. These classes have become one of my favorite ways to educate and connect with aspiring or recent retirees. If you know of a friend or colleague who would appreciate six hours of unbiased retirement planning education, please consider encouraging them to attend. It's a really unique education opportunity and the antidote to the free steak dinner seminar.
In Back To The Basics, we address the key to investing success in a way that's…well, basic. However, sometimes basic is easily forgotten. Please take a moment to read about the key to investing success; a great reminder during this somewhat-challenging market.
Finally, check out the piece titled: "What Does Retirement Mean To You?" As you either enjoy your retirement or look ahead at what your future retirement will look like, see what one couple is doing to make their retirement truly unique.
As always, thanks for your trust and for your attention.
All the best,

Adam B. Cufr, RICP®